Home
About Us
Next Show
Past Shows
Contact Us
CCMF
Find Us
Production Team
Panto Booking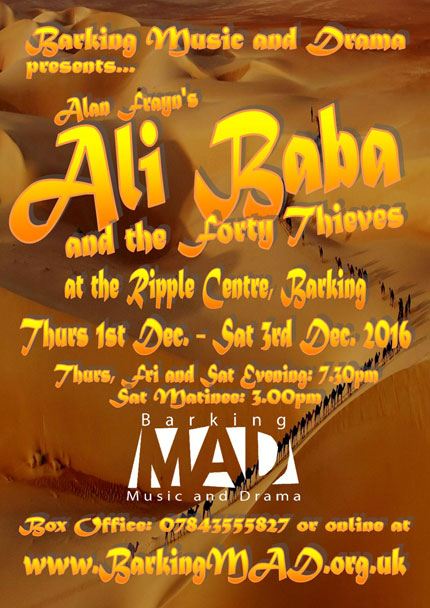 Ali Baba and the 40 Thieves
1st - 3rd December 2016
One of the less commonly performed titles, this innovative script makes new footsteps in the sand, whilst firmly embracing the spirit of the original Arabian Nights tale.

Very strong characters and storyline keep youngsters enthralled, whilst heaps of comedy, spectacle and traditional business make for an entertaining production for all ages.

There are many excellent principal parts, including Dame Fatima Fandango (a former belly dancer), whilst the Chorus are very much involved, having the opportunity for some character acting and rousing numbers as the Thieves.

This exceptionally witty script also includes a very original ultra-violet scene (optional) and has proved itself to be remarkably flexible, with plenty of scope for spectacular staging. Whilst it has been performed many times in small village halls, one production reached an audience of over 60,000 and had 3 live camels on stage!